Bora Bora is a truly magical island. It is a place where a mighty, extinct volcano explodes out from amidst a gorgeous lagoon and its azure waters.
Beneath the water lies an explosion of colors, from the many hues of coral to the thousands of species of sea life living abundantly mere inches below the surface.
There truly is no doubt that Bora Bora is one of the most beautiful islands in the world and unquestionably the most renowned of the islands of Tahiti and French Polynesia.
Thanks to Bora Bora's picturesque qualities, a number of resorts in Bora Bora have popped up over the years. They've conveniently capitalized on the lagoon by lining the beaches with stunning beachfront villas, whilst overwater bungalows extend out from the shore to offer perfection to discerning travelers who will settle for nothing but the best Bora Bora accommodation.
The good news is you can't really go wrong when picking from any of the resorts in Bora Bora! When you're in paradise, you could be staying in a tent and you'd still have an unforgettable trip. However, we wanted to make your decision a little easier by picking out twelve of the absolute best places to stay in Bora Bora.
Read on to find out our top picks!
Luxury Accommodation & Overwater Bungalows in Bora Bora
Are you the kind of traveller that wants to experience the best Bora Bora has to offer? Well, you're in luck. Few places in the entire world cater better to luxury and high end travellers than Bora Bora.
Expect to spare no expense with these picks, they are he absolute top 5-star resorts and luxury accommodation in Bora Bora. Expect to stay in overwater bungalows where you can wake up, step onto your private balcony and dive out into the lagoon.
On-site restaurants and bars will offer the best in class dining experiences alongside comprehensive wine menus and some of the best cocktails you'll ever enjoy.
Choose any of these resorts and you'll be guaranteed a magical and memorable holiday in Bora Bora.
1. InterContinental Bora Bora Le Moana Resort
The InterContinental Bora Bora Le Moana is the slightly more affordable sister hotel to the InterContinental Bora Bora & Thalasso Spa (which also made its way onto our list below). We consider the Le Moana resort to be the perfect balance of affordability and luxury.
With the overwater bungalows extending out from Matira Beach you will get to experience Bora Bora the way you've always dreamt of. Step out of your room to dip your feet in the lagoon just mere feet from your bed.
The glass bottom floors in the rooms will allow you to watch the tropical fish below your bungalow even while you're inside cooling off with the air-con running.
This luxury resort in Bora Bora unsurprisingly pulls out all the stops with staff who are there to provide everything you could need. Entertainment is built around the lagoon with free snorkel equipment, stand up paddle boards, canoes and more provided.
Whilst those looking to experience a bit of French Polynesia's culture should definitely check out the regular Polynesian cultural show hosted here at the resort.
At this price point, the InterContinental Bora Bora Le Moana is amongst the best resorts in the world and it's certainly the best value in Bora Bora.
Overwater bungalows
Helpful and attentive staff
Free equipment (e.g. snorkels,. canoes, etc)
Air conditioned bungalows
Stunningly beautiful views
Awesome included breakfast
Polynesian show
Location: Matira Point, Vaitape
2. Conrad Bora Bora
With a host of infinity pools and located on its own remote island, Conrad Bora Bora is one of the best 5 star resorts in Bora Bora.
When you have the budget to spare no expense then great service and modern rooms become a prerequisite to booking any resort.
Conrad Bora Bora goes beyond this and offers private and shared infinity pools, absolutely gorgeous 5-star rooms and overwater bungalows overlooking the ocean. With the right room you'll get to spend your evenings in your private infinity pool, sipping cocktails and watching one of the most impressive sunsets on earth.
As a high-end resort be prepared to pay exorbitant prices for any extras. Airport transfers are pricey as you must be collected by boat and the food and drink prices are high. You're already dropping thousands on staying here so we reckon budget for the extra costs and don't let it affect your trip!
We also particularly loved the modernness of the rooms, especially the bathrooms, which we find elevates the quality of your stay in French Polynesia.
If you value isolation and you don't want to see other resorts, then Conrad Bora Bora Nui should be your top pick.
Secluded location on a separate island
Infinity pool
Overwater bungalows
Incredible views
Modern rooms
Location: To'opua Island
3. The St Regis Bora Bora
The St Regis Bora Bora often tops these lists – and for a good reason. It's arguably the must luxuriously, lavish resort in Bora Bora.
You'll have no difficulty finding luxury accommodation in Bora Bora, but if you want the best of the best then we'd recommend checking out St Regis Bora Bora right away!
Located on Piti Aau, and nestled between the exquisite Four Seasons Resort and the InterContinental Bora Bora Resort, the location is about as good as you can get in Bora Bora.
This prime location positions the resort to perfectly watch the sunset behind the volcano of Bora Bora island. Of course, some other resorts offer more secluded locations (such as Conrad Bora Bora), however, we prefer
The bungalows are best in class, perfectly combining the design elements of thatched rooves and Polynesian, cultural style that epitomizes what we visit Bora Bora for. Compared to other overwater bungalows across Bora Bora and Tahiti, The St Regis offers the largest with heaps of space for relaxation, activities and additional family members.
As you would expect of all 5 star resorts, the staff are attentive and friendly, but at St Regis Bora Bora resort they truly go above and beyond to ensure every need you have is met, from the chefs in the five restaurants through to the hotel employees.
St Regis Bora Bora is undoubtedly amongst the best picks. We'd recommend it for anyone heading to French Polynesia for a honeymoon or families after a little extra space. This place is heavenly.
Spacious overwater bungalows
Beautifully designed buildings and features
Lavish ambiance
Unbeatable location
Sunset views over Bora Bora island
Better food and cocktails than some other resorts on the island
Location: Piti Aau
4. Le Bora Bora
Le Bora Bora is a luxury resort with gorgeous overwater bungalows located on a quiet, yet picturesque, part of the island.
Overwater bungalows? Tick. Specatcular views? Tick. Clear, blue waters? Tick. Le Bora Bora really does tick all the boxes and we find the pricing to be a lot more palattable than some of the other overwater bungalows on the island.
Staying at Le Bora Bora is like staying in a modern hut that's been placed down on top of a giant aquarium. The clear waters around your room are perfect for swimming and snorkelling. In fact, they're so clear that you can look down and see colorful coral, fish and and even sharks from your balcony!
Location-wise, Le Bora Bora can be found towards the northern end of the island on Tevairoa which is a quiet island looking back towards Bora Bora.
This positioning can make exploring the main island and some of the other places to find food a little more challenging. The good news is that the food at Le Bora Bora is marvellous and you won't feel like you're missing out!
The resorts are also overlooking the main island which we love, especially when the sunset behind you illuminates the rugged, volcanic terrain. That said, we prefer the views from the other side where the sun will set behind the island.
The perfect spot for honeymooners who don't want to splurge on the St Regis.
Overwater bungalows
Great food, the best buffet breakfast
Spectacular lagoon
Clear water and abundant sea life
Immaculate customer service
Location: Te Vairoa
5. Four Seasons Resort Bora Bora
Four Seasons Resort brings luxury to the next level with generous overwater bungalows offering unreal views.
One of the best 5 star resorts on the island, Four Seasons Resort is the perfect destination for your holiday or honeymoon. The resort has been placed in the best location on the island, near our other top high-end pick, The St Regis Bora Bora resort.
Here you can expect majestic views overlooking the main Bora Bora island, which gets lit up in a gorgeous, golden glow at sunset as the sun hides behind the towering Mount Otemanu. Seriously though, this place is so beautiful you almost won't believe it's real.
The rooms are private and spacious, some offering your own infinity pool extending out into the lagoon. Bathtubs have been intentionally situated right by the windows offering you the chance to soak in Bora Bora's beauty while you soak yourself.
Everything at Four Seasons Resort is spot on, with a stunning beach, pool, palm trees and well designed buildings, through to lovely staff with impeccable service.
When money is no object, we advise picking either Four Seasons or St Regis. You get what you pay for.
Thatched roof, overwater bungalows
Private infinity pools
Majestic views, especially at sunset
Ocean view from the bathtub
The best location in Bora Bora
Location: Piti Aau
6. InterContinental Bora Bora & Thalasso Spa
When you see postcard-perfect photos of Bora Bora, there's a good chance they were taken either at this resort or nearby. The location is as good as it can get with direct views over Mount Otemanu and the peaks on the main island. Similar to neighboring St Regis and Four Seasons, InterContinental Thalasso also looks straight at the sunset in the evening – perfection.
All of the bungalows here are clean, and most importantly, located on the lagoon, over the water. However, at this price point a couple of the other resorts on this list offer more modern bungalows that may edge out InterContinental Thalasso just slightly.
As the prices get higher you get options with private pools, multiple rooms and various rooms. How many rooms you require and whether or not you want a pool is up to you, but we definitely recommend picking one of the rooms with Otemanu views if available.
In addition to the perfect bungalows and impeccable service, there's just an exceptional amount of things to do here! From the Polynesian show to scuba diving, photo shoots, dining and so much more.
Huge, beautiful overwater bungalows
The best location in Bora Bora
Free access to equipment including SUPs, kayaks and snorkel gear
Personalized experience thanks to the helpful and attentive staff
View over Mount Otemanu and stunning sunsets
Location: Piti Aau
Mid-range Resorts in Bora Bora
Bora Bora is undoubtedly a luxury paradise, but that doesn't mean visitors to Tahiti and French Polynesia shouldn't get the chance to spend a night or two here.
The good news is that not all of the Bora Bora resorts are 5-star accommodations with $1000+ a night pricetags! You'll forgo a few of the niceties (naturally you do get what you pay for) whilst still getting to experience the natural beauty of Bora Bora.
7. Maitai Polynesia Bora Bora
Maitai Resort is one of the more popular resorts in Bora Bora thanks to its beautiful lagoon and relatively affordable prices.
Compared to our luxury picks above, Maitai Bora Bora is cheap! This 3-star resort is an amazing mid-range option with a lot of the same amenities as the more luxurious options.
The rooms themselves are clean and cosy with exactly what you need, albeit slightly dated. The King rooms offer you the chance to stay near the beach for a very reasonable price, whilst Maitai also offer full overwater bungalows overlooking the lagoon at a fraction of the cost of other places.
We would definitely recommend booking either the King Rooms with Ocean View or the Overwater Bungalows, although the latter tends to sell out well in advance.
The lagoon which Maitai resort is located on is a standout even for the island of Bora Bora, where the clear water contained millions of hues of sparkling blues and greens.
The views from the resort are, unsurprisingly, fantastic, however, bear in mind you won't be able to get the quintessential perspective looking back at Bora Bora during sunset if you choose to stay on the island itself.
There are two on-site restaurants offering good food and generous cocktails which will enable you to not need to leave the resort at all! That said, being located on the main island will allow you to explore and get out to some of the other restaurants in the area.
Overwater bungalows at an affordable price
Stunning lagoon
Great value for money
Free equipment such as beach towels and snorkels
Location: Matira Point Beach
8. Royal Bora Bora
Royal Bora Bora is a beautiful resort that find the perfect balance between luxury and affordability.
Royal Bora Bora is the perfect mid-range resort for anyone looking to mix up staying in their island paradise with exploring the wider area. You'll have everything you need on the island from a great restaurant to one of the best beaches on the island.
On top of this, you'll have access to explore the hikes around the island, a supermarket nearby and plenty of great places to eat.
The staff are friendly and accommodating, almost to the level of a higher star-rated resort, making you feel welcomed and confident that they'll make your trip wonderful.
Large rooms
Located on Matira Beach overlooking a lovely lagoon
Easy access to explore Bora Bora
Short drive to great restaurants and other attractions
Small supermarket 50m away
Location: Matira Beach
9. Village Temanuata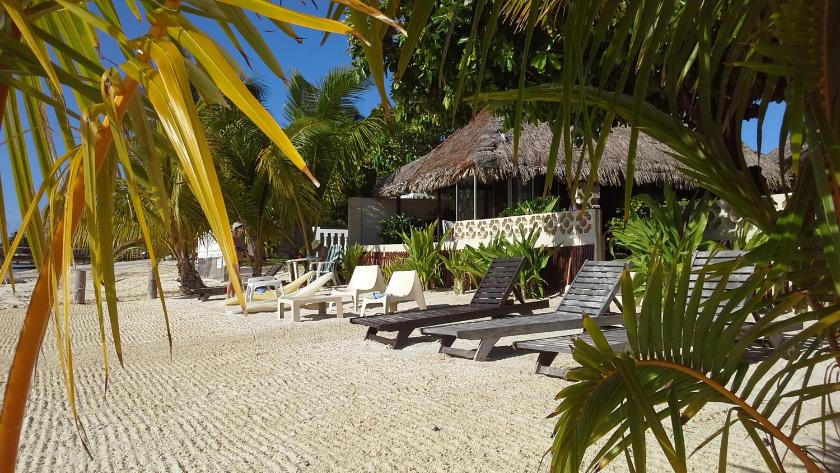 You know this must be a great location when it shares a beach with our top pick in all of Bora Bora, the InterContinental Bora Bora Le Moana Resort. Although Village Temanuata isn't quite a luxury resort, it also doesn't cost upwards of $2,000 a night!
So as long as you are willing to forgo the dream of luxurious overwater bungalows you can't really get much better than Village Temanuata!
There is a small beach right in front of the resort with great snorkeling and impressive views out over the lagoon. There is also the option to rent bikes to tour the island or head out on a boat tour of the lagoon and the surrounding islands – we'd highly recommend doing both.
Take the money you've saved by not staying in a 5-star resort and get out, explore the place you're visiting.
Do bear in mind before booking that they are all garden view bungalows and some people would find them slightly overdue a refresh. Regardless, they are clean and comfortable.
Located right next to our top pick InterContinental Le Moana
Easy access to explore Bora Bora
Beautiful lagoon
Tours available to explore Bora Bora
Location: Matira Beach
Budget Bora Bora Resorts
Bora Bora doesn't have to be a destination exclusively for the ultra-wealthy. Sure, you'll sacrifice overwater bungalows and staff who tend to your every whim, but the truth is that nature is free. No matter where you stay, as long as you're in Bora Bora you can explore, hike and enjoy this beautiful island.
10. Oa Oa Lodge
Oa Oa Lodge is a super basic accommodation located in one of the most beautiful islands in the world.
Unfortunately, nothing in Bora Bora is cheap, but Oa Oa Lodge gets pretty close! The bungalows here are super basic but offer plenty privacy and are generously sized.
We've done years of backpacking so some outdated decor has never bothered us, but we highly recommend checking out the photos of the rooms before booking so you are aware of what to expect. The rooms are clean and comfortable but definitely couldn't be described as modern and could do with a bit of refurbishment.
The beach here is of course beautiful (everywhere in Bora Bora is) but it is definitely one of the less ideal locations on the island. Again, this is a sacrifice worth making if it means you get to experience Bora Bora. Rent a scooter or car and it's a short drive to any of the other beautiful beaches such as Matira Beach in the south.
Lastly, the staff are extremely friendly and helpful willing to advise you with tips to get the best out of your holiday in the islands of Tahiti.
If you're really on a shoestring budget, we reckon Oa Oa Lodge is your best option to experience the beauty of Bora Bora.
Decent snorkelling out front
Close to the main town
Cheap food and supermarkets nearby
Private decks and beachfront bungalows
A few semi overwater bungalows
Clean and livable, albeit basic
Location: Vaitape
11. Anaiva Lodge Bora Bora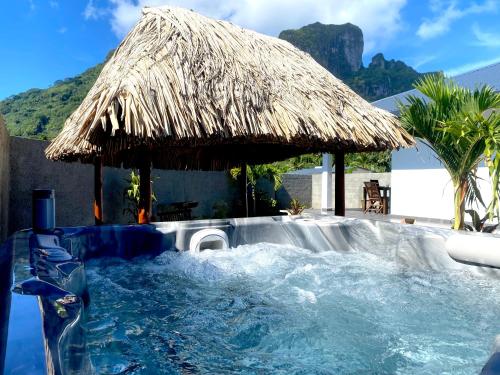 Anaiva Lodge is an affordable accommodation located about half way between the town of Vaitape and the beautiful Matira Beach. Although not a beachfront accommodation, various points of interest are easily accessible by scooter, bicycle or car.
The rooms at Anaiva certainly aren't 5-star, but they are modern enough for the price and exceptionally clean.
A range of amenities are provided for free, despite the already affordable price, that would often cost you at other higher-end resorts. Free amenities include an amazing spa, Netflix, bbq, bikes, drinking water and airport transfers – this is extremely impressive for any accommodation.
Spa pool
Better and more modern decor than similar priced alternatives
Free amenities
Average location but close enough by bike to reach better spots
Location: Pofai Bay, roughly halfway between Matira Beach and Vaitape
Best Places to Stay in Bora Bora
Luckily, there isn't really a bad place to stay in Bora Bora! However, there are definitely better spots than others.
If you're on a budget then you probably won't have a lot of options, but our favourite two places to stay are Piti Aau and Matira Beach.
Piti Aau
Piti Aau is a sheltered islet right off the coast of the main island of Bora Bora. It is also the location of the Bora Bora airport.
A few hotels are located on Piti Aau and they are all luxury resorts offering expensive, 5-star accommodation. The reason they are located here is likely to become immediately obvious when you arrive.
Piti Aau is hands down the best place to view the island of Bora Bora and the majestic Mount Otemanu Peak. On top of this, it looks back towards the extinct volcano during sunset – the most impressive time to see Bora Bora.
If your budget can stretch, then this is our favourite place to stay in Bora Bora.
Best Place to Stay in Piti Aau: St Regis Bora Bora
Matira Beach
The next best area to stay in Bora Bora is as close to Matira Beach as possible. A few resorts line this beach and area – and for good reason!
This is a particularly relaxful and beautiful, white sand beach that overlooks an impressively azure lagoon. Snorkelling and swimming around here is equally enjoyable as lying on the beach, cocktail in hand.
Best Place to Stay in Muri: InterContinental Le Moana
What to Look for When Choosing a Resort in Bora Bora?
Equipment Hireage
Most resorts in Bora Bora will offer free equipment hireage, or if not, there will be a small fee to hire the gear. Unless you're not into snorkelling or you're bringing your own gear (honestly, this is recommended) then you'll want to make sure your accommodation is providing.
Hotel Airport Transfers
All resorts in Bora Bora offer airport transfers, with a select few offering free pick up and drop off. For the most part expect to pay a small fee for the privilege. We'd recommend taking them up on this to ensure your trip goes smoothly.
A few resorts are only accessible by boat, in which case you should expect slightly higher fees. $150 is not uncommon.
Outdoor or Infinity Pool
Most travelers will find they aren't really in need of a pool given how pleasant the lagoon is to swim in! If you are the exception then make sure to double check your resort has a pool. Higher end resorts in Bora Bora will also offer private infinity pools which sounds like a magnificent way to spend your time.
Ensuite Bathroom
Every resort on this list offers ensuite bathrooms so you won't need to worry about this, but if you're booking any cheaper options then it can pay to check. Some of the rooms have somewhat tired bathrooms so if this is where you plan to spend a lot of your time it can be worth checking the reviews.
Conversely, we've seen a few with views from the bathroom.
All Inclusive Resorts in Bora Bora
The resorts in Bora Bora are not typically all inclusive, however, given you won't require a lot during your stay in Bora Bora we hardly consider this a con! Just make sure to set aside some budget to pay for your food, drinks, activities and airport transfers and you'll be fine.
Otherwise you can always book a package via a travel agent.
Bora Bora Accommodation Packages
Deals are pretty rare with Bora Bora and for the most part accommodation packages seem unnecessary to us. We don't recommend booking a package when visiting the islands of Tahiti as they'll usually lock you in with one hotel chain.
Instead, it's pretty easy to book your own accommodation and arrange your own transfers between islands.
If you're not up for it then consider chatting with a travel agent rather than booking a package as they won't always be the best option!
AirBnB Bora Bora
Holiday homes and AirBnBs are often the best accommodation option for families or groups. Solo travelers and couples will usually get a better place if they go for a resort or hotel in Bora Bora.
When choosing an AirBnB in Bora Bora we recommend choosing a place with plenty of great reviews.
Bora Bora isn't really an AirBnB place as most travelers opt for resorts, but there can be some cheap rooms of amazing houses to be found!
Bora Bora Flights
Being located in the South Pacific Ocean, flights to Bora Bora are likely to be pretty expensive regardless of where you're travelling from! We recommend checking out the price of flights on Skyscanner and letting the robots find the best combination of dates and airlines for you.
FAQs
How much does Bora Bora cost?
Bora Bora is an expensive destination, especially if you want to live the dream of and overwater bungalow. Overwater bungalows start around $800 USD per night with nicer ones sitting around $2,000 USD. Cheap accommodation can be found in the $100 to $400 USD per night range that will still allow you to visit Bora Bora on a budget.
What is the best time to visit Bora Bora?
The best time to visit Bora Bora is during the shoulder months around April and November. During these months the temperatures should still be high and the island a little less crowded.
Where did Kim Kardashian stay in Bora Bora?
Kim Kardashian stayed at The Hilton Bora Bora Nui which has since rebranded and is now called Conrad Bora Bora. The Kardashian's booked the two Presidential villas at $5,000 USD per night.